Friday, 07 July 2023 from 1 p.m. (13.00 Uhr)



In partnership with the University of Aberdeen
13.00

Welcome our 1st Scot t Fest

Atrium Maximum

Focus on Walter Scott

13.30

'My oaks will outlast my laurels': Walter Scott and Trees  Welcome to Scott by Prof Alison Lumsden (Aberdeen)

Atrium Maximum

Stories from Scott

with Dr Anna Fancett (Aberdeen)

Atrium Maximum

14.30

Coffee, Tea and Ice Cream

Linke Aula

Ice cream stand outside the building

Focus on Scotland and Nature Writing

15.00

Reading The Living Mountain Today
Talk by Kelly Schmidt (JGU)

Atrium Maximum

16.00

Nan Shepherd And The Curse of Frankenstein

Animated Lecture by Erlend Clouston

Atrium Maximum

17.30

From the living mountain to the living forest

HS11

17.30

Wine and Pretzels

Foyer

17.30

Whisky Tasting

tbc

Concert

19.00

Iona Fyfe Trio

Award-Winning Singer

from Aberdeenshire

Atrium Maximum
Saturday, 08 July 2023 from 10 a.m. (10.00 Uhr)



Focus on Scotland and Rheinland-Pfalz

10.00

Welcome and Introduction

Atrium Maximum

10.30

Workshops

•Learning Scotland's language with Iona Fyfe

•Learning to write Scottish Songs with Jenny Sturgeon

•Learning to tell Stories with Anna Fancett

(Please register via Eventbrite)

WBZ U1-153

HS11

WBZ U1-155

10.30

Lowland Games for the wee lads and lassies (Kids)

Parking Lot, Alte Mensa

Lunch Break

Linke Aula

Döner stand outside the building

12.30

Welcome Back to our GETs




(German Educational Trainees)

Atrium Maximum

13.30

GET Together

Our Scottish / Irish / German Students Present their Global Citizen Projects (Exhibition, Films, Talks) with Partners in Mainz, Bad Kreuznach, Ahrtal, Pfälzerwald

HS11

Coffee, Tea and Shortbread

Linke Aula

Performance , Music and Dance

16.00

The Living Mountain (Jenny Sturgeon)
Audio-visual Performance inspired by Nan Shepherd's celebrated book of the same name.

Atrium Maximum

18.30

"Rantin Rovin Robin"

The Life of Scotland's

Favourite Son, Robert Burns, in Music, Song and Verse

by

Richard Morrison

Atrium Maximum

Wine and Pretzels

Foyer

20.30

Ceilidh (Scottish Dance)

Narhalla Dancers and FSCDC e.V


Atrium Maximum
---
Food and Drinks
There will be food trucks and a wine stand at limited times during the Scot t Fest. Additionally, there are nearby restaurants very close to the location, like the Kulturcafé, Baron and Imbiss Diwan.

Location
The Scot t Fest 2023 will take place in the "Alte Mensa" on the campus of JGU Mainz.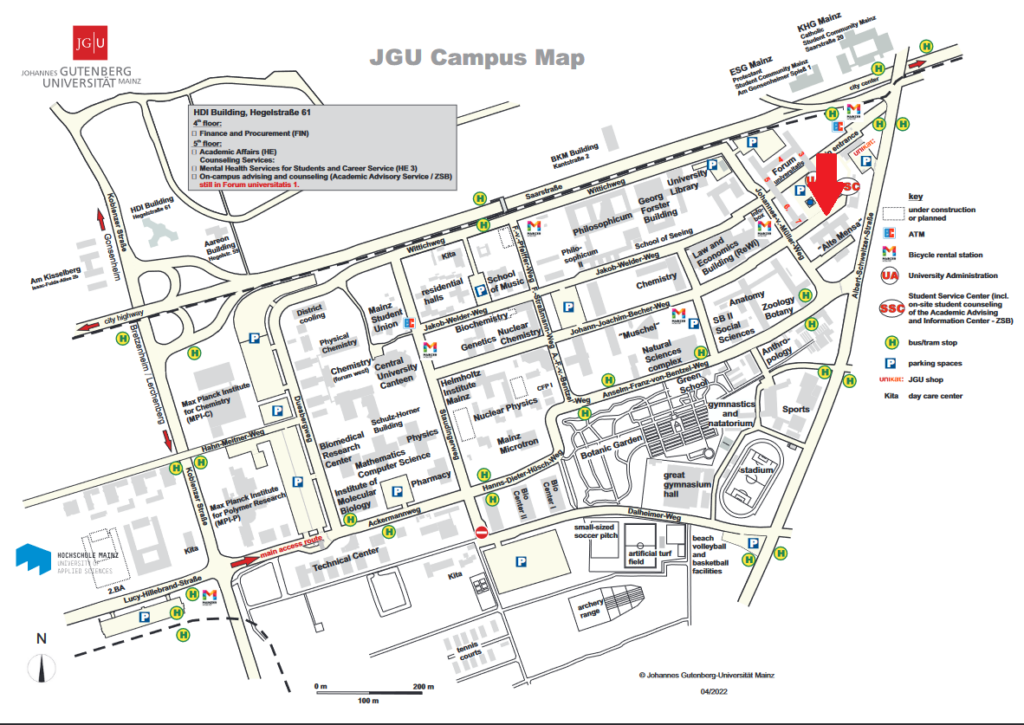 Find the Alte Mensa on Google Maps
Getting to Campus
The campus of JGU is only a short distance from Mainz main station (20 minutes on foot or two stops
by bus or tram). You can either get off at the stop "Universität" and enter campus via the main gate or
get off at the stop "Friedrich-von-Pfeiffer-Weg" which is located behind the Philosophicum building. You
can also download the app "Mainzer Mobilität" for bus and tram timetables.

The following bus or tram lines take you from Mainz main station to campus:

6 (in direction Münchfeld/Gonsenheim)
9 (in direction Arena)
51 (in direction Lerchenberg)
53 (in direction Lerchenberg)
54 (in direction Klein-Winternheim)
55 (in direction Nieder-Olm)
56 (in direction Wackernheim)
57 (in direction Bretzenheim)
58 (in direction Finthen)
59 (in direction Hochschule Mainz)
64 (in direction Hartenberg)
65 (in direction Hartenberg)
68 (in direction Budenheim)
75 (in direction Schwabenheim/Ingelheim)