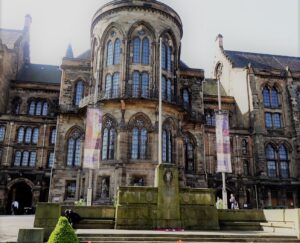 The Integrated Mainz-Glasgow Programme is a unique opportunity for students at the Johannes Gutenberg University Mainz's Faculty of Law to deepen their knowledge and skills in a range of legal areas. The programme, which has been in place for over 25 years, is a collaboration between the University of Glasgow's School of Law and Mainz's Faculty of Law.
Students from Mainz have the option to participate in either a jointly-designed 60 ECTS study programme or an LL.M. (Master of Laws) in Glasgow. The LL.M. study programmes on offer include Corporate and Financial Law, Intellectual Property & the Digital Economy, International Commercial Law, International Competition Law and Policy, International Law, and International Law & Security.
The goal of these cooperations in the faculties of Law is to strengthen and expand the existing partnership between the two universities on all levels. It also aims to attract Scottish students to study in Mainz and integrate them into the community. To achieve this, participants are expected to take part in extracurricular activities, such as language tandems, offered by the Law Study Abroad office both before and after their return to Mainz.
To be eligible for the programme, applicants must have successfully completed the third year of their studies (6th semester) at Mainz, have participated in at least two advanced exercises by the end of the 5th semester, have completed the legal intermediate examination, have a foundational certificate and foreign language certificate. Successful participation in the programme will be recognized as a specialization exam, as part of the first legal examination, upon request.
Read more here: Faculty of Law (JGU)
European Comparative Law Project

This optional course seeks to provide a programme of academic (and cultural) benefit for up to 10 students from the Universities of Mainz, Germany and Glasgow, Scotland who otherwise would not have any international dimension to their studies. The design of the course aims to give students a working understanding of another legal system and thereafter to allow groups of students from both institutions to work together on a joint comparative law research topic. The course will be delivered both at Mainz and at Glasgow.
Read more here: School of Law (University of Glasgow)