Global Outreach - Global Citizen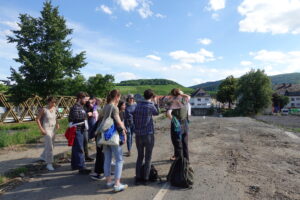 This year's Global Outreach project continued the long standing tradition of connecting German and Scottish university students across borders and helping them face local challenges as global citizens.
After a week of interdisciplinary lectures in Mainz by readers from the Johannes Gutenberg University Mainz and the University of Aberdeen dealing with topics like climate justice, floods in Europe's history, the geologic background of climate change and even floods in literature, the Scottish and German students were well prepared for their project work with German pupils from two schools in Ahrweiler.
The group travelled to the Ahr Valley, where they were housed in a helper camp. The region was flooded heavily in July 2021 and is still relying on support from funds and volunteers to rebuild houses and lives. At two schools in Ahrweiler, Gymnasium Calvarienberg and Peter-Joerres-Gymnasium, the university students then worked together with groups of pupils to create stunning texts, podcasts and videos dealing with the pupils hopes and dreams for the future.The cooperation with the schools and the inspiring project work led to creative end results which we hope to be able to present here soon.