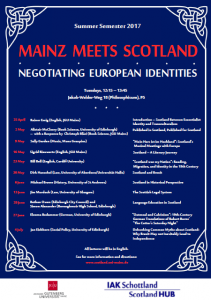 Johannes Gutenberg University Mainz enjoys many contacts with Scottish Universities, with exchange and collaboration opportunities for students and staff. These links will become all the more important in the coming years, with the Brexit negotiations placing a particular emphasis on Scotland's role in the United Kingdom and in Europe.
This series of lectures, sponsored by the newly established Mainz Scotland Hub, is designed to shed light on the manifold issues affecting Scotland's identity in the context of Europe – in the past as well as the present and the future. The interdisciplinary lectures will permit different disciplines, e.g. History, Literary, Book and Cultural Studies, Education, Politics, Economics, Theology, Law, but also the Natural Sciences, to present their particular views on Scotland and its connections with Europe, Germany, Rhineland-Palatinate, and Mainz, links that in some cases go back to Roman times and even earlier. Lectures will last for about 60 minutes to leave ample time for responses, questions and debate.
_________________________________________________________________________________________________________________________________
Programme
25 April 2017




Rainer Emig



Introduction – Scotland Between Essentialist Identity and Transculturalism
The lecture will explain the different approaches to cultural identity - from traditional thinking in essences via more modern ones focused on inter- and multiculturalism to recent ones that see cultures always already in exchange and call this 'transculturalism'. Scotland will then be approached as a contradictory manifestation of cultural identities, with markers such as region, language, etc. producing as many differences and contradictions as the 'imagined community' of all Scots.
ghgjhghgjhg
Rainer Emig is Chair of English Literary and Cultural Studies and teaches British literature and culture from the Middle Ages to the 21st century. He also has strong interests in the New Literatures in English, especially African and Asian writings, and in Ireland and Wales. He was educated at Johann Wolgang Goethe University Frankfurt am Main, Germany, Warwick University and Oxford University, United Kindom, and Siegen University, Germany. He has taught at Cardiff University, Wales, Regensburg University and Hannover University, Germany. His theoretical interests range from psychoanalytic theory via deconstruction to postcolonial questions. His cultural interests focus on gender and sexuality as well as questions of normality, power, and violence, but also youth and popular culture. He has published monographs entitled Modernism in Poetry (1995), W.H.Auden (1999), and Krieg als Metapher im zwanzigsten Jahrhundert (2001) and editet collections on Stereotypes in Contemporary Anglo-German Relations (2000), James Joyce's Ulysses (2003), Gender ↔ Religion (with Sabine Demel, 2008), Hybrid Humour (with Graeme Dunphy, 2010), Commodifying (Post-)Colonialism (with Oliver Lindner, 2010), Performing Masculinity (with Anthony Rowland, 2010), and Treasure in Literature and Culture (2013). Current projects include a monograph on eccentricity and another on the intersection of ethics and questions of alterity in treasure and treasure hunts. Rainer Emig is one of the editors of the Journal for the Study of British Cultures (JSBC).
xfgf
Phone Ι +49 6131 39-22145
E-Mail Ι emigr@uni-mainz.de
Web I https://www.english-and-linguistics.uni-mainz.de/univ-prof-dr-rainer-emig/
_________________________________________________________________________________________________________________________________
2 May 2017




Alistair McCleery



Response by Christoph Bläsi – Published in Scotland, Published for Scotland

This lecture examines the relationship between, on the one hand, culture, used not only in the sense of literature but as a general marker of national distinctiveness, and, on the other, the publishing industry, a contributor to the general economic well-being of the nation. The examination is conducted in the context of Scotland, a small European nation, but not fully a nation-state, sharing a language with the major Anglophone publishing centres and markets of London and New York. Some of those characteristics it shares with other small European nations such as Ireland or Austria. The evolution of the publishing industry in Scotland is traced from the early twentieth century onwards; and its intertwining with the development of national cultural consciousness is considered. The lecture concludes with a vain attempt to prophesy the future of the relationship between Scottish publishing and culture and a more realistic outline of the steps to be taken to optimise the positive outcomes in that future.
ghgjhghgjhgh

Professor Dr McCleery is Director of the Scottish Centre for the Book at Edinburgh Napier University and is author of the chapters on 'Publishing in the Long Twentieth Century' in the Cambridge Companion to the History of the Book (2015) and 'Publishing' in the forthcoming Cambridge History of the Book in Britain, volume 7 (2018). He is co-author of An Introduction to Book History (2012) and co-editor of The Book History Reader (2006). He co-edited and contributed to The Edinburgh History of the Book in Scotland 4: 1880-2000 (2007) and has written widely on aspects of twentieth and twenty-first century publishing.
dfgdfg
Phone I +44 (0)131 455 6171
E-Mail I a.mccleery@napier.ac.uk
Web I http://www.napier.ac.uk/people/alistair-mccleery
Following Alistair McCleery's arguments on the the role of the publishing industry in the "development of national cultural consciousness" and as "a contributor to the general economic well-being of the nation" (in Scotland), I will present a few thoughts following the question, in which way the digitisation of book economy and book culture might impact this role and this contribution, respectively. In particular, I will present justified concerns regarding the sustainability of the book heritage in the digital age.ghfgdfdfdfd


Christoph Bläsi (born in 1960): professor for book studies at Johannes Gutenberg University Mainz (D) (since 2009); 2011-2014: guest professor at the University of St Gallen (CH), 2014: research fellow at Edinburgh Napier University (U.K.); 2004-2009: professor for the study of the book at the University of Erlangen-Nuremberg (D); 1992-2004: senior positions in digital publishing and strategic information management of various major German publishing houses; 1989-1992: assistant professor / research fellow (computational linguistics) at the universities of Heidelberg (D) and Bielefeld (D); 1991: guest research fellow at the University of Pisa (I); 1982-1989: student / mathematics, German studies and general linguistics at the universities of Freiburg (D) and Sussex (Brighton, U.K.).
dgdfg
Phone I +49-(0)6131-39-36289
Fax I +49-(0)6131-39-25487
E-Mail I blaesi@uni-mainz.de
Web I http://www.buchwissenschaft.uni-mainz.de/mitarbeiter/blaesi/
xcvxwhwww.medienkonvergenz.uni-mainz.de/blaesi/dfgdf
_____________________________________________________________________________________________________________________
9 May 2017


Sally Garden




"Mein Herz ist im Hochland" – Scotland's Musical Meetings with Europe

Bagpipes, ceilidhs and lively 'Celtic connections' seem today to represent the entire sum of Scotland's musical identity.
dfdfdfd
But why should the fun end there, when for centuries, Scotland has also met and traded musical influences with continental Europe and Scandinavia, embraced the musical diasporas of Italy and Germany, lent anciency to the notion of Nordic identity, and sent her composers and performers to its major cities for modern professional training?
dfdfd
How can this imbalance in the expression of Scotland's northern European musical identity – the result of historical and political factors which have tended to reinforce regionality and peripherality - be overcome? Will a change in external conditions, such as forced by Brexit, bring about the stimulus for a cultural resurgence and rebalancing?gghjgjhgh


Dr Sally LK Garden (mezzo-soprano and musicologist) was born in Angus, north east Scotland, and was educated at the Universities of Aberdeen, Heriot-Watt, and Edinburgh. Performing under the banner 'Mons Graupius' (a playful borrowing from Tacitus!), her portfolio includes international collaborations, festival appearances, concert promotion, publishing, editing, recording, new media work, and composition. Best known for her interpretations of Scottish and Scandinavian art song, she has given recitals in concert halls, castles and kirks all over Scotland, appeared in island and mountain-top venues in Norway, and enjoyed the honour of performing at Grieg's villa, Troldhaugen. Her formal postings and affiliations include work on The Music of Scotland publishing project at the University of Glasgow, three years as Historical Musician in Residence at the Wighton Heritage Centre, Dundee, and an Honorary Research Fellowship at the Centre for Scandinavian Studies, University of Aberdeen. She is currently a member of the Walter Scott Minstrelsy Project (JGU), working on classical settings associated with the Minstrelsy of the Scottish Borders.

dfdfdf
http://www.monsgraupius.org/
s.garden@monsgraupius.org
_________________________________________________________________________________________________________________________________
16 May 2017




Sigrid Rieuwerts



Scotland – A Literary Journey

This lecture will focus on literary negotiations in time and place. From the Scottish Borders to Orkney, from the Western Isles to Edinburgh: Scotland's landscapes and seascapes are imprinted in her literature. A journey through Scotland will therefore open up vistas into Scotland's rich cultural heritage and her stories of nationhood. Starting our journey from the foundational texts of modern Scottish literature (from 1760 to 1832) and the world of Enlightenment and Romanticism of Burns's and Scott's time, we will encounter both reactionary conservatism and progressive futurism while exploring the vibrant presence of the sense of place in Scottish literature.

Priv.-Doz. Dr habil. Sigrid Rieuwerts is reader at the Johannes Gutenberg-Universität Mainz with a research and teaching focus on Scotland. She is the Principal Investigator on the Scottish-German project "Walter Scott's Minstrelsy of the Scottish Border as focus for literary, musical, historical, critical and cultural analysis", funded jointly by the Deutsche Forschungsgemeinschaft and the Arts and Humanities Research Council. She is the author of many books on Scottish literature and culture, orality and cultural memory, including Kulturnarratologie (2006) and The Ballad Repertoire of Anna Gordon, Mrs Brown of Falkland (2011), as well as the Series Editor of B∙A∙S∙I∙S (Ballads and Songs ‑ International Studies) and B∙A∙S∙E - Ballads and Songs – Engagements. In 2015 Rieuwerts won the 2015 Committed to Uniqueness (COM2UNI) award from the German Academic Exchange Service for sending German Educational Trainees to Scotland (GET across borders programme).
dfgdfg
Phone I (+49) 6131 39 22763
Fax I (+49) 6131 39 20663
E-Mail I rieuwerts@uni-mainz.de
http://www.rieuwerts.de/
http://walterscott.eu/
_________________________________________________________________________________________________________________________________
23 May 2017




Bill Bell


"Scotland was my Nation" – Reading, Migration, and Identity in the 19th Century
Bill Bell founded the Centre for the History of the Book at The University of Edinburgh in 1995, of which he was Director until 2012. He has held visiting posts at The Australian National University, The University of Ottawa, and St John's College, Oxford, Jadavpur University, and The University of Göttingen. He is a member of the Council of The Bibliographical Society and from 2008-2014 was Editor of the Society's quarterly, The Library: Transactions of the Bibliographical Society. He has served on the advisory boards of a number of organisations, including the Research Society for Victorian Periodicals (RSVP) and the Society for the History of Authorship, Reading and Publishing (SHARP). He is one of three editors of Palgrave Studies in the History of Media and has served on the advisory boards of several publications, including the American annual Book History.
_________________________________________________________________________________________________________________________________
30 May 2017




Dirk Hanschel


Scotland and Brexit
Whilst Brexit negotiations are currently under way, one pressing issue is how Scotland may react to the threat of being pulled out of the European Union against its own will. To what extent does the process require further parliamentary debate including specific Scottish input, can Scotland find a way to maintain EU linkages or even full membership without the rest of Britain and how may the whole issue affect the whole devolution and independence debate? These will be some of the questions that Dirk Hanschel will be adressing from a legal perspective.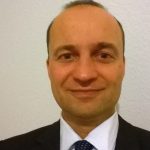 Prof. Hanschel was a Reader at the University of Aberdeen school of law before moving on to the Chair of German, European and International Public Law at the University of Halle-Wittenberg, whilst maintaining links with Aberdeen as an Honorary Reader.
dfgdfg
Phone I +49 345 55 23170
Fax I +49 345 55 27269
E-Mail I dirk.hanschel@jura.uni-halle.de
_________________________________________________________________________________________________________________________________
6 June 2017




Michael Brown


Scottish Identity in the Later Middle Ages

Historians of Scotland spend a lot of time talking about identity. Their fixation is partly a product of three centuries in which the survival of a sense of Scottish identity has been maintained without a Scottish state. Ironically, however, the Scottish state which existed before 1707 was the basis of Scotland's core identity as a distinct European kingdom. By looking at the period between 1330 and 1530 when Scotland was most clearly defined as a separate territorial and political unit of north-western Europe, I want to consider the ways in which Scots thought of themselves and were regarded by other peoples. By placing this in the context of their neighbours, large and small, I will examine the roots from which a lasting Scottish identity has continued to survive.
Michael Brown is Professor of Medieval Scottish History at the University of St Andrews. He works on politics and political society in Scotland and the other lands of the British Isles during the later Middle Ages. His publications include James I (1994), The Black Douglases: War and Lordship in Scotland (1998), The Wars of Scotland 1214-1371 (Edinburgh, 2004) and Disunited Kingdoms: Peoples and Politics in the British Isles (London, 2013).
dfgdfg
Phone I +44 (0)1334 462899
Fax I +44 (0)1334 462914
E-Mail I mhb@st-andrews.ac.uk
13 June 2017


Jim Murdoch


The Scottish Legal System
The Scottish Legal System is often said to combine the features of both common law and civil law. But what explains the continued existence of Scots law in a Union that is dominated by English law? And how has Scots law been shaped by wider European influences since the UK joined the Council of Europe and then the EU? This lecture will examine some of the key issues facing Scots law, and speculate on its future and on future threats to its integrity and existence.
Jim Murdoch joined the School of Law at the University of Glasgow after qualifying as a solicitor. He read law as an undergraduate at Glasgow and has an LLM from the University of California at Berkeley. He was Head of the School of Law between 1996 and 2000. He has taught at the Universities of Mainz, Freiburg, Hamburg and Paris Ouest, and was a professeur stagiaire with the Directorate of Human Rights of the Council of Europe in France. He is a regular participant in Council of Europe seminar programme visits to Central and East European states and has developed a particular interest in non-judicial human rights enforcement mechanisms. In 2012, Jim was awarded the Pro Merito medal of the Council of Europe. The medal is the highest distinction granted by the Secretary General to individuals (or organisations) in recognition of their commitment to the Council of Europe's values and work. In 2016, he was the recipient of theEuropean Award for Excellence in Teaching in the Social Sciences and Humanities, awarded by the Central European University, Budapest.
ghg
http://www.gla.ac.uk/schools/law/staff/jamesmurdoch/
_________________________________________________________________________________________________________________________________
20 June 2017




Bethan Owen and Simon Alexander


Language Education in Scotland
This presentation will give an overview of public sector school education in Scotland, following the learner's journey from pre-school experiences, through the Broad General Education and into the Senior Phase. It will map out how education is structured and organised nationally and in Scottish Local Authorities. Focus will then be given to the broad agenda currently underpinning all areas of education in Scotland, such as Raising Attainment for All, Closing the Attainment Gap, Developing Scotland's Young Workforce, Parental Engagement and the National Improvement Framework.

Bethan has a life-long love of and involvement in language learning, with family ties to both Italy and France, and has spent time studying, working and traveling in both countries. This great passion has been a strong influence on Bethan's career path in Primary Education, opening doors to specialist roles in Languages Learning and Teaching and to Leadership in Languages, for which Bethan received Professional Recognition from the General Teaching Council for Scotland in 2016. In her current role as Development Officer, 3-18 Modern Languages for the City of Edinburgh, Bethan is the strategic lead for supporting improvement and expansion of languages learning and teaching. In addition to responsibility for management of budget planning and allocation of Scottish Government funding, this involves developing and maintaining strong working relationships with partners and government agencies in Scotland and overseas. In June 2017, Bethan became Chair of the Languages Network Scotland Group, which brings together representatives from all sectors of education, including Scotland's Universities and Colleges, national bodies such as Education Scotland, and SCILT, Cultural Organisations, such as overseas Consulates and Institutes and the British Council and representatives of Scotland's Business Community. Bethan has been invited to speak on aspects of Education in Scotland at international events, most recently in Madrid, Tokyo and at the Sorbonne, in Paris. Bethan lives and works in Edinburgh, where she is able to play an active role in supporting the Edinburgh International Book Festival as a translator and interpreter.
 
Simon Alexander intends to talk about how language learning in his institution, Boroughmuir High School in Edinburgh, is structured and how the German Educational Trainees from Mainz and elsewhere fit into to the department, what their responsibilities are and what they can expect from their time in Edinburgh.
Simon Alexander teaches French and German at Boroughmuir High School in Edinburgh, Scotland, where he is also curriculum leader in Modern Languages.



_________________________________________________________________________________________________________________________________
27 June 2017


Eleoma Bodammer


"Oatmeal and Calvinism" – 19th-Century German Translations of Robert Burns' "The Cotter's Saturday Night
Robert Burns' poem 'The Cotter's Saturday Night' poses interesting linguistic and cultural translation problems: the mixture of Scots dialect and Standard English; the Spenserian stanzas; the religious references to Scottish psalm tunes and the Bible; the endorsement of Reformed worship and domestic piety; the criticism of ceremonial church practices; and the translation of Scottish patriotism and food references. In this poem, food, religion and heroic patriots, here specifically, oatmeal, Calvinism and William Wallace, are important factors in defining and celebrating Scottish culture. Burns in effect turns the virtues of the cotters into national virtues. The lecture looks at how this poem was conveyed in German translation to a German readership in the nineteenth century by both male and female translators.
Dr Eleoma Bodammer (Senior Lecturer, University of Edinburgh)
gdgf
Her research interests are German literature in the eighteenth and nineteenth centuries, with focuses on Anglo-German cultural relations, literary landscapes, travel writing, literary translation and disability narratives in the Romantic era. She is also an expert on the works of Friedrich Leopold Graf zu Stolberg (1750-1819) and has published essays on Goethe, E. T. A. Hoffmann, Heinrich Heine and Friedrich Schiller. She has also edited two volumes of the Edinburgh German Yearbook on the themes of cultural exchange and disability in German literature, theatre and film.

___________________________________________________________________________________________________________________________
4 July 2017
Jan Eichhorn
Debunking Common Myths about Scotland – Why Brexit May not Inevitably Lead to Independence
Following the decision of UK voters to leave the European Union, attention has not only been paid to the negotiations of the government with the EU, but in particular also to the question what this means for Scotland. Nicola Sturgeon, Scotland's First Minister, has announced her intention of holding a second independence referendum and numerous commentators have argued that this time Scotland must surely opt to exit the UK in the wake of Brexit – given that over 60% of Scots voted to remain in the EU.However, when we actually examine the attitudes of the Scottish population we find that things are a lot more complicated than they are often portrayed. Scots may, on average, be less hostile to the EU, but they are not the strong left-leaning, globalist and europhile people that we might be led to believe. In this talk we will examine the social and political attitudes of the Scottish population, identifying changes over time and discussing what drives electoral and constitutional choices. We will discuss which sort of identity orientations (class, nation or political community) might matter most and what this means for the likelihood of Scotland ultimately leaving the United Kingdom.
Dr Jan Eichhorn is a lecturer in Social Policy at the University of Edinburgh. He has conducted extensive research into public attitudes of people in Scotland, the UK and other European member states both in the context of the Scottish independence referendum and the UK vote to leave the EU. In addition to his work in Edinburgh, he also acts as Research Director of the Berlin-based think tank d|part, focussing on utilising empirical research to improve political participation.
xfgf
Phone Ι 0044 131 651 1382
E-Mail Ι Jan.Eichhorn@ed.ac.uk
Twitter Ι @Eichhorn_jan
http://www.socialpolicy.ed.ac.uk/people/academic_staff/jan_eichhorn