German Theatre at the University of Aberdeen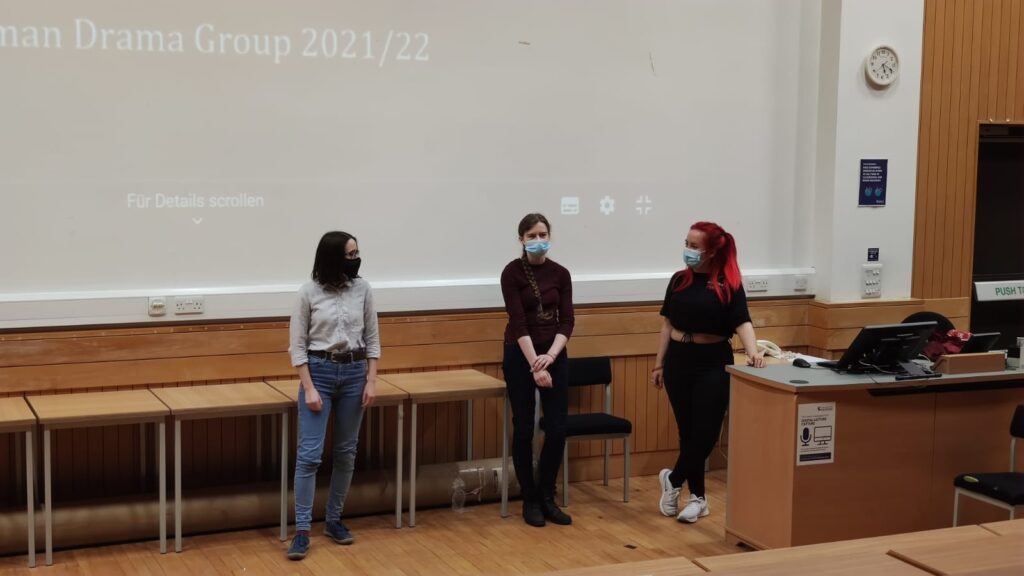 As part of the long-standing partnership between the Johannes Gutenberg Universität Mainz and the University of Aberdeen, the UoA's German Drama Group under the direction of JGU's Lisa von Gartzen put on a refreshingly funny, abbreviated version of Goethe's well-known masterpiece Faust. Two performances, a virtual stream and an in-person screening at the MacRobert Lecture Theatre, allowed an audience from all over the world to see the group's take on the play fast Faust by Albert Frank, which is itself a modern take on Goethe's famous play. The German performance with English subtitles was an opportunity to experience Goethe's remarkable use of language in German, while keeping the play understandable and accessible to everyone.
In fast Faust, Debora Poštulková, Lucy Stenhouse and Cem Zor play the roles of three actors who are struggling to perform Goethe's Faust. Budget cuts and Covid cases in their company have forced them to adapt the play with 57 parts in a way that allows the three of them to perform it on their own, on a minimalistic stage and without fancy props or costume changes. This results in a heavily abbreviated version of Faust that relies heavily on suspension of disbelief, as well as attention to detail and some great comic timing.
And yet, within this funny and entertaining performance, the reflection of the original Faust's storylines in the three actor's struggles makes for a nuanced exploration of not only the plot, but also the themes of Goethe's renowned classic. Anyone in the audience who did not know Faust before, can now give a confident synopsis of the play, including some readings of famous scenes. At the same time, even those who already knew the play by heart can still say they learned something about the inner workings of theatre – and, of course, everyone enjoyed the experience.
LS