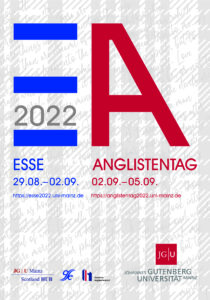 The ESSE conference 2022 will take place at Johannes Gutenberg University, Mainz, Germany, from 29 August to 2 September 2022.
ESSE-16 will be held on-site in Mainz, Germany, from August 29 to September 2, 2022. The conference will border on the Anglistentag, the annual conference of The German Society for the Study of English. A special reduced fee will be available for those wishing to attend both events. Registration will start in March 2022. The full fee for participation in ESSE-16 will be € 120 (reduced rate € 60).
The ESSE academic programme will follow the usual format of plenary papers, round tables, parallel lectures, seminars, poster sessions and a Doctoral Symposium. Its current state can be found here.
We are very pleased to be able to present three distinguished plenary speakers:
Professor Claire Connolly (University College Cork, Ireland, Fellow of the Learned Society of Wales and Member of the Royal Irish Academy), author of A Cultural History of the Irish Novel, 1790-1829 (Cambridge University Press, 2011) and Co-Editor (with Marjorie Howes) of the six volume series Irish Literature in Transition, 1700-2020 (Cambridge University Press, 2020)
Professor Christian Mair (Chair of English Linguistics, University of Freiburg, Germany), author of Twentieth-Century English: History, Variation and Standardization (Cambridge University Press, 2006): Global English: 21st century linguistic and cultural trends (click on the link for the abstract)
Professor Karen O'Brien (Vice-Chancellor and Warden, Durham University, United Kingdom, formerly Head of the Humanities Division, Oxford University, United Kingdom, Fellow of the Royal Society of Arts), author of Women and Enlightenment in Eighteenth-Century Britain (Cambridge University, 2009): 
The 13 parallel lectures provide a survey of research in English Language, Literature, and Culture in many European countries. The list can be found here.
This is the second time - after 1999 - that the English Department of Johannes Gutenberg University Mainz will host the Anglistentag.
The conference is scheduled a little earlier this year, with a conference warming on 2 September and ending with workshops on 5 September.
Anglistentag and ESSE - broadening perspectives
The Anglistentag has been scheduled for an earlier date since, for the first time ever, the ESSE (European Society for the Study of English) conference will be held in Germany. It will take place immediately before the Anglistentag.
As the organiser of both events, the Mainz English Department would like to make it easy to participate in both conferences. You can combine your registration for both the ESSE conference and the Anglistentag and benefit from a reduced fee.
We are going to merge the ESSE closing event and the conference warming for the Anglistentag, which should make it easy to mingle with our European colleagues.